On Friday, April 28th I received a phone call I was not prepared for. My boyfriend notified me that my dog went out to use the bathroom and didn't come back. After a few minutes went by we figured it was something that at first wasn't that big of a deal. But as hours passed that not so big of a deal turned into one of the most terrifying feelings of our lives. Tedo went missing and he ran off right in Southeast Washington DC by Fort DuPont park. For anyone who knows Fort DuPont park it is over 400 acres of land. Our dog could be anywhere.
That night we called every animal shelter and talked to every animal control officer within a 30 mile distance to see if they saw or even picked up our dog. We searched for hours that night and it continued for days. Saturday morning we called a tracking team that were not able to get to us until Sunday. We left feeding stations. We made scent trails. We put up flyers. We posted him on every social media site known to man. We did everything humanly possible to try to locate our Baby. Saturday turned into Sunday. Sunday turned into Monday. Monday turned into Tuesday and turned into Wednesday evening.
Every day of every hour our heart broke for our baby boy. We handed out so many flyers and posted so many that our printer ran out of ink. May 3rd Wednesday evening we received a phone call saying that someone found our dog and he was in their front yard. She told us he was very dehydrated and possibly hurt so she gave him some water. I called her and let her know I was on my way. It's took me 45 minutes to get to my baby boy and when I saw him he was injured so badly he could not move.
We rushed into a 24 hour hospital expecting the worst. From one pet parent to another you can only imagine what this feels like. It feels like you've lost your child and failed. It feels like you weren't there for him. Once we got our baby into the animal hospital they started running some tests. They gave him a bath and reviewed all of his injuries and realized how bad the damage truly was. Tedo had been hit by a CAR. And basically left for dead. No phone calls were made of a dog being hit by a car in the area and as his last resort he tried his best to move to the woods, where he could find some type of safety and shelter for 5 days. We don't know the extent of how bad our dog is hurting right now but we've already put down everything we have to make sure he's OK.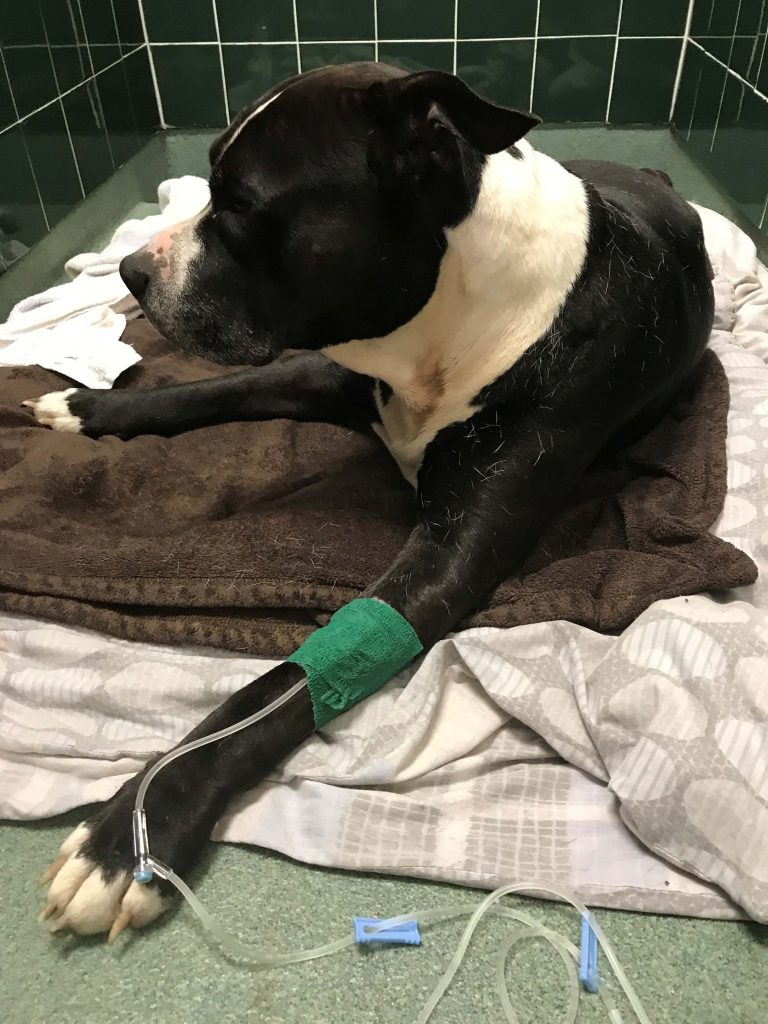 The visit from the vet costs are very expensive and we aren't beggars we hate to ask for help but we have accessed all of our resources. If you can find it in your heart to donate anything even a dollar every penny counts! We really appreciate it we just want to make sure that our Tedo is taken care of and returned home in care. He will have to undergo a few surgery for some of his injuries. And as most people know Anesthesia alone is very expensive. Please share, repost and DONATE we are grateful for any and everything.